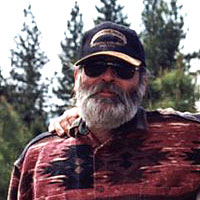 Dennis Smith was born in Logan, Utah. He grew up in Ventura, California, where he attended Ventura College for three semesters, as an art major, before joining the Marine Corps in February 1966.
As a Marine, he served one tour in Vietnam between October 1967 and November 1968, all 13 months with Bravo Company, 1st Battalion, 26th Marine Regiment (B1/26).
Six months into his tour, he was promoted to Sergeant, where he served during the Battle of Khe Sanh. After Khe Sanh, he became 3rd Platoon Guide, then Weapons Platoon Commander before returning to the United States. For details, click below:
Dennis Smith's Service & Combat Records
Dennis Smith's Diary: Just Give Me Tomorrow (One Tour In Vietnam)
A year after his discharge, he entered the Brooks Institute of Fine Art in Santa Barbara, where he studied between 1969 and 1971. Thereafter, he opened a studio in Ventura for a couple of years, where he met a neighbor and silversmith, Ric Delugo.
In the 1970s, he married, divorced and remarried, eventually relocating to Hurricane and later Mount Carmel, in southwest Utah.
In 1986, his work was exhibited in St. George Utah, where he also painted a large mural on the side of a building. While painting the building mural, he met people passing through southwest Utah on The Great Peace March for nuclear disarmament.
In early 1988, Ric Delugo contacted him about the LMSG concept. Dennis had been contemplating a similar vision, and decided to join Delugo on the LMSG project. Soon thereafter, he arrived in Siskiyou County with $6 in his pocket, and began to work with DeLuga and the Forest Service.
For Dennis Smith, the Living Memorial Sculpture Garden is about "War & The Effects of War". However, everyone comes with their own personal story, that blends and inteacts with the LMSG.
The original LMSG plan called for the creation of nine sculptures for the Garden. By consensus, the Board arrived at a theme or concept, which was passed on to Dennis Smith, who then created and presented a proto-type to the Board for approval.
All of the sculptures in the Living Memorial Sculpture Garden are executed in 14 gauge steel, using 3/16″ welding rod.